Unisex Still European Organic Cotton Sweatshirt ⚡ 2 - 3 week wait
This product is made to order specially for you. It shall be made and shipped within 2-3 weeks from ordering. Order before Thursday 3rd December for guaranteed delivery before Christmas in the UK. 
F

or International orders reach out to support@birdsong.london with your shipping address and we will let you know when you can expect your order.
Our new autumn style, locally embroidered onto a buttery soft organic cotton base. Self portraits shot at home by Shingi.
Please note that these sweatshirts are Unisex, so come up a little large. We'd recommend going a size down from your usual if you want a less loose fit. 
Shingi is wearing a size S.
Fabric
Base sweatshirt manufactured in Tamil Nadu, Southern India by Continental. EarthPositive Tees are 100% organic Indian cotton with 90% reduced C02, and Fair Wear certified for fair labour practices.
The carbon footprint was calculated in accordance with BSI PAS2050 methodology, and certified by the Carbon Trust Certifications. The 90% reduction has been achieved by a combination of low-impact organic farming, efficiency in manufacturing and transportation, and the use of renewable energy instead of the fossil fuel based grid electricity.
It has been calculated that a single EarthPositive T-shirt saves around 7 kilograms of CO2, whereas a hooded sweatshirt saves up to 28 kgs of greenhouse gases. These are actual reductions achieved in the manufacturing, without any carbon offsetting.

Fit
These sweatshirts are Unisex. Shingi is wearing a size S and wears s a UK size 10-12.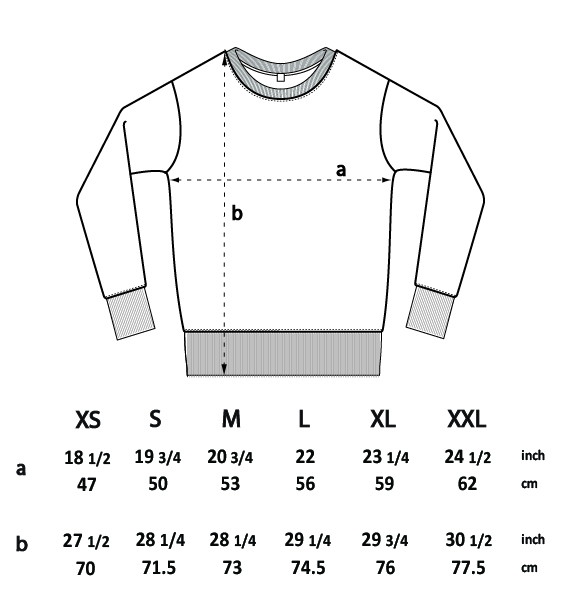 Makers
Designed in house by Birdsong. Embroidered by talented women paid a fair wage in East London.
Our organic cotton sweatshirts are made at a vertically integrated garment factory in Tamil Nadu, Southern India, at the primary manufacturing facility of Continental Clothing Co. 
Lårs Labels features In